Sending an unintended text, video, or photo can be embarrassing. There are also times when there is a lapse in your concentration, and you end up sending a message without the complete details that you wanted to include, or you include a wrong recipient. When such a message is delivered, it leaves the recipient confused about the intention of sending them the message.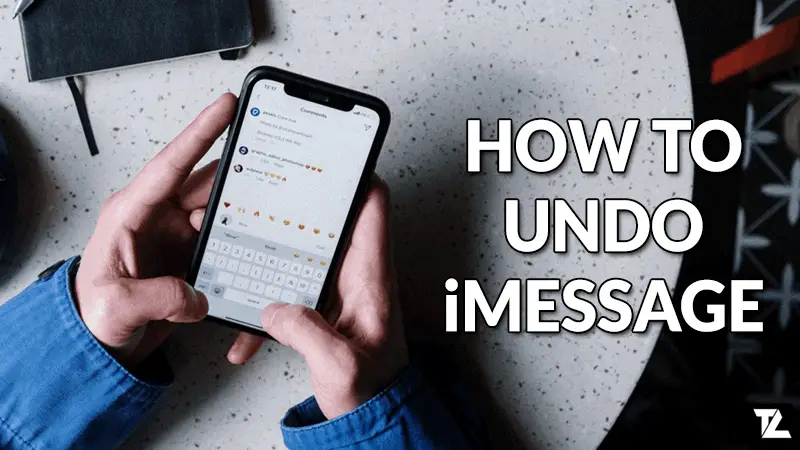 There has been misinformation that iPads and iPhones have the unsend function, which is not true. This article intends to demystify the misconception and offer you the correct information.
While most Android devices have the undo / unsend feature, iPads and iPhones do not have it, preventing their users from recalling such a text. This, therefore, begs the question for many users, how can I unsend an iMessage on iPhone and iPad?
Can you unsend an iMessage on iPhone & iPad?
Apple's selling point of their devices has been primarily on a point on privacy. They guarantee their users that their devices have utmost protection against any form of malicious intent. For this purpose, they have built their iPhone and iPad devices with security features that prevent any breach of security.
There is a rumor that runs around indicating that you can unsend iMessages on Apple devices. That is a wrong misconception. On all iOS13 and earlier versions of Apple, there is no unsend feature, and it has not been included to provide safety to the users.
On the contrary, Android devices and many other social media websites have implemented this feature in their system, and the users have appreciated it and applauded it as helpful. So, here's the truth that demystifies all the rumors about unsending iMessages on Apple devices.
On iPad and iPhone, if you send an SMS, iMessage, or MMS, it will surely be delivered to the indicated recipient.
Having "Privacy" in mind while developing the iOS technology, developers made sure that you cannot access and delete messages from both you and the recipient.
However, you can still delete the sent and received texts from your phone, but they won't affect the recipients on the other end.
As recently indicated by Apple, there is a possibility of adding this feature on the newer iOS 14 version once it is released. This might have come as an indication of how it was well-received when added to other platforms. Furthermore, they will roll out this feature for the iMac and MacBook as well.
Apple has safety concerns as their priority, and there is no doubt that they have thoroughly tested this function for safety before deciding to include it in their devices. In the future, Apple users will also have the luxury of using this feature like other users.
How to Undo a Sent iMessage?
The process of sending a text message takes a few seconds before it is delivered, depending on the strength of your network. Usually, it would take just below 5 seconds to deliver an iMessage to the recipient once you hit send. This is the very rare timeline that you have to unsend an iMessage if you discover that it either lacks crucial information, has unintended information or that you have sent it to the wrong person.
The process of recalling a sent iMessage or text message from your Apple device is relatively straightforward, but you have to have quick reflexes to undo the text before it gets delivered on the other end. You have to do this in this small gap of time before the iMessage is officially delivered to the recipient. Here's a step-by-step process of how to recall an iMessage.
Step-by-Step Guide to Undo a Sent iMessage
Quickly swipe down from the upper right corner of your device's screen to bring down the Control Center.
Then, tap on Airplane mode to enable the Airplane mode on your iPhone or iPad device. This feature is in all Apple's devices.
If you're using an iPhone 8 or older model, it will be required for you to swipe from the bottom side of the screen.
Enabling Airplane Mode will disable signals going in and out of your Apple device, disabling the message from being sent.
Eventually, you will receive a message in red indicating "Not Delivered". This indicates that your message has not been delivered to the recipient, and its fate is now in your hands.
As opposed to sending text messages, sending photos and videos takes longer to be sent since they have more data. To undo them, you will use the same process of enabling Airplane Mode but will have more time to do it.
When the "Not Delivered" message has popped up, you can tap and hold on to it and then select More options. Then, tap on the Trash or Delete option to get rid of the message from your device.

It is important to note as a precaution that if you do not trash or delete the message, it will still be delivered to the recipient once you disable Airplane Mode because the signal will resume.
Deleting a message once it has already been delivered is a fruitless affair as the recipient might have already seen the text, making it all awkward. To prevent such occurrences from happening regularly, it is advised that you save your contacts alongside their photos so that you'll tell clearly to whom you are sending the iMessage.
Frequently Asked Questions (FAQ)
Why doesn't iOS 13 have the unsend feature?
In essence, Apple has been rigid over time to add new features to their devices as they have many things to consider, security being on the top of the list.
Is the reversal feature going to come soon on Apple devices?
It is speculated that on their latest release, the iOS 14, this function will be added. It has, however, not been officially announced by Apple and those reports remain rumors until they have been substantiated.
Can I unsend an iMessage after Jailbreaking iPhone or iPad?
No, Cydia has shady applications that promise to do it, but you should keep away from them.
Conclusion
The hustle of unsending a message can be evaded by doing due diligence. It can save you from potential embarrassment if an unintended message is accidentally delivered. Always counter-check on your recipient details and re-read the message before sending it.