Snapchat is a new app that has gained popularity among teenagers. It allows you to send and receive messages, videos, pictures, and drawings with friends.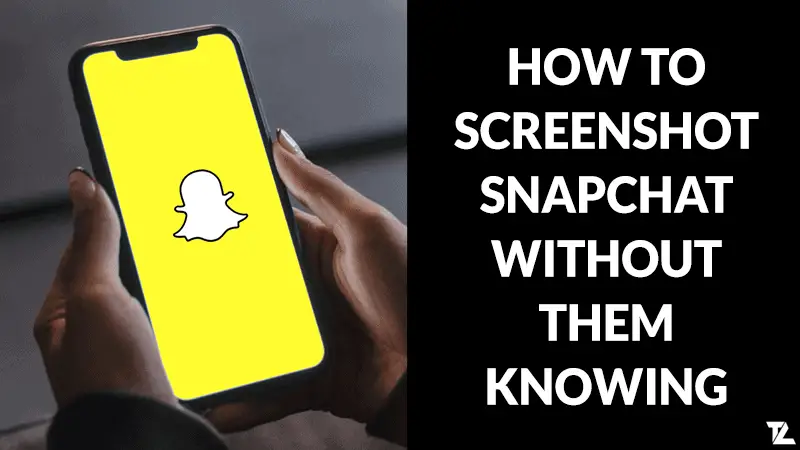 One thing that sets Snapchat apart is that all of your messages are deleted after up to 10 seconds. With the release of Snapchat's newest update, Snap Map, it became increasingly difficult for people to screenshot their friends' stories without them knowing.
There are many reasons why people may not want their messages on Snapchat, whether it's due to personal privacy concerns or to avoid group conversations.
When someone takes a screenshot of one of your snaps (messages or pics), you will be notified with an alert sound and message reading "Username took a screenshot!". For example "thecydia took a screenshot!" It can be embarrassing if they're sending something private in case it gets leaked by accident.
How to Screenshot Snapchat Stories without them knowing
This article will teach you how to screenshot Snapchat without them knowing, meaning that your friends can't tell whether or not they're being watched during one of their sessions on the app!
Turn on Airplane Mode on iPhone
One great way to take a screenshot of your friends' Snapchat stories without letting them know is by enabling Airplane mode.
This simple trick can let you save their snaps for later viewing and make sure they never find out, even if the person in question has chat alerts turned on! It's effortless:
Open Snapchat, make sure all snaps load.
Turn off Wi-Fi as well as both mobile data and Bluetooth while still ensuring there isn't an internet connection anywhere.
Now turn on Airplane mode. After this, open up Snap that you want a screenshot of and take a screenshot.
Snapchat will not be able to notify the other person as there's no data or Wi-Fi connection. However, once you disable the Airplane Mode, it might notify the person. To prevent this follow the below steps:
Close the story and click on your profile picture.
Tap on the Settings icon from the top right corner.
Scroll down and tap on Clear Cache → Clear All → Clear.
Wait 30 seconds or 1 minute and turn off Airplane Mode.
Use QuickTime on Mac
We can record the iPhone's screen using QuickTime Player on Mac. We can take it to our advantage and use it to record Snapchat Stories without notifying the other person.
Follow the below steps to use QuickTime on Mac to screenshot Snapchat snaps.
Connect your iPhone to Mac using an appropriate cable.
Open QuickTime Player on your Mac from the Application folder, Launchpad, or Spotlight.
Click on the tiny downward arrow beside the record button in QuickTime Player and select your iPhone. For the microphone, you may use Mac's internal mic or your iPhone's mic.
Drag the volume slider to the right or maximum value.
Finally, click the record button in the QuickTime Player to start capturing the iPhone's screen.
Open Snapchat on your iPhone and load the snaps which you want to capture.
When done, click on the stop button to stop recording.
Now, close the QuickTime Player on your Mac by clicking on the tiny red close button at the top left corner.
If you don't want to record the Snaps, but instead want to have screenshots of them, follow the above steps 1 to 5 and then press Command + Shift + 4 on your Mac and press the Space Bar and take a screenshot of the QuickTime window.
Use another phone to record
You can use your spare phone to take a photo of Snapchat!
You need to open up Snapchat, record a story via your other smartphone or tablet, go into camera mode on that device so you can see what is being captured in live video format.
Click "Snap" when capturing an image- be sure not to include any sensitive information! After this step, crop out anything unnecessary from the photo if needed.
Using screen recording
Screen recording is possible on both Android and iOS devices. All you need to do for this feature to work is enable the screen recording mode from either the Notification Centre or the notification shade of your device.
Once done, open the Snapchat app – find a snap that needs saving and press stop once it has been recorded successfully! You can then crop out any unnecessary footage if necessary.
Screenshot on Snapchat without them knowing using third-party apps
There are various third-party apps available for this purpose, such as SnapSaver (Android) and Sneakaboo (iOS). Below are some pretty simple steps to screenshot Snapchat using these apps.
SnapSaver
SnapSaver is a free app that saves your screenshots from Snapchat without notifying anyone. You just have to download it on Android and open up the application to use this.
The app allows users to save Snapchat stories as videos or images which can be viewed outside of Snapchat itself. Within Snap Saver, there is also a feature that allows users to download all of their friends' Snapchat stories with a single click and filter by length.
Sneakaboo app
Using the Sneakaboo app is a perfect way to save any Snapchat Story without your friend knowing! You just have to download it on an iPhone.
All you have to do is log in with your credentials, and all of your friends' Stories will be available there. Just take a screenshot when it's playing, and they'll never know that you saved their story for later viewing!
FAQ
1) Can you tell when someone screenshots your Snapchat?
Snapchat notifies users if someone has taken a screenshot of their Snap. There are many ways to take screenshots on Snapchat, but the user will know when it happens because they'll see an icon beside your name that indicates you've been copied (or "screen-wiped").
Regardless, there are many ways for users to take screengrabs without others knowing what they're doing surreptitiously. So, if you're worried about someone in your Snapchat knowing that they've been screenshot, you are sorted out.
2) Is it illegal to screenshot a Snapchat story?
It is not illegal to take a screenshot of someone's Snapchat story! Users are using it for amusement reasons or saving any information that may be important. However, it would be best to have their permission by letting them know why you want to take the screenshot.
Conclusion
If you've ever wondered how to screenshot a Snapchat without the person knowing, we hope this article has helped clear up some of your questions.
It turns out that there are many different ways to do it, and most of them don't even require third-party apps! Just remember that it's probably a good idea to ask permission first if you want to save someone's Snap, and you should never screenshot another person's private snaps. Also, be sure not to screenshot anything you wouldn't want to be shared in public.