Checkout the complete list of Cydia Tweaks for Jailbroken iOS 9.2 to iOS 9.3.3 or List of Cydia Tweaks compatible with iOS 9.2 to iOS 9.3.3
Earlier we have shared a complete tutorial on how to jailbreak iOS 9.2 to iOS 9.3.3 using Pangu. The Jailbreak released is semi-jailbreak or tethered jailbreak but can be used without PC. Follow our previous guide to Jailbreak iPhone, iPad, and iPod touch running on iOS 9.2 to iOS 9.3.3. In this article we are going to share complete list of Cydia Tweaks compatible with iOS 9.2 to iOS 9.3.3. This list contains 100+ Cydia Tweaks which are tested and working according to the developers.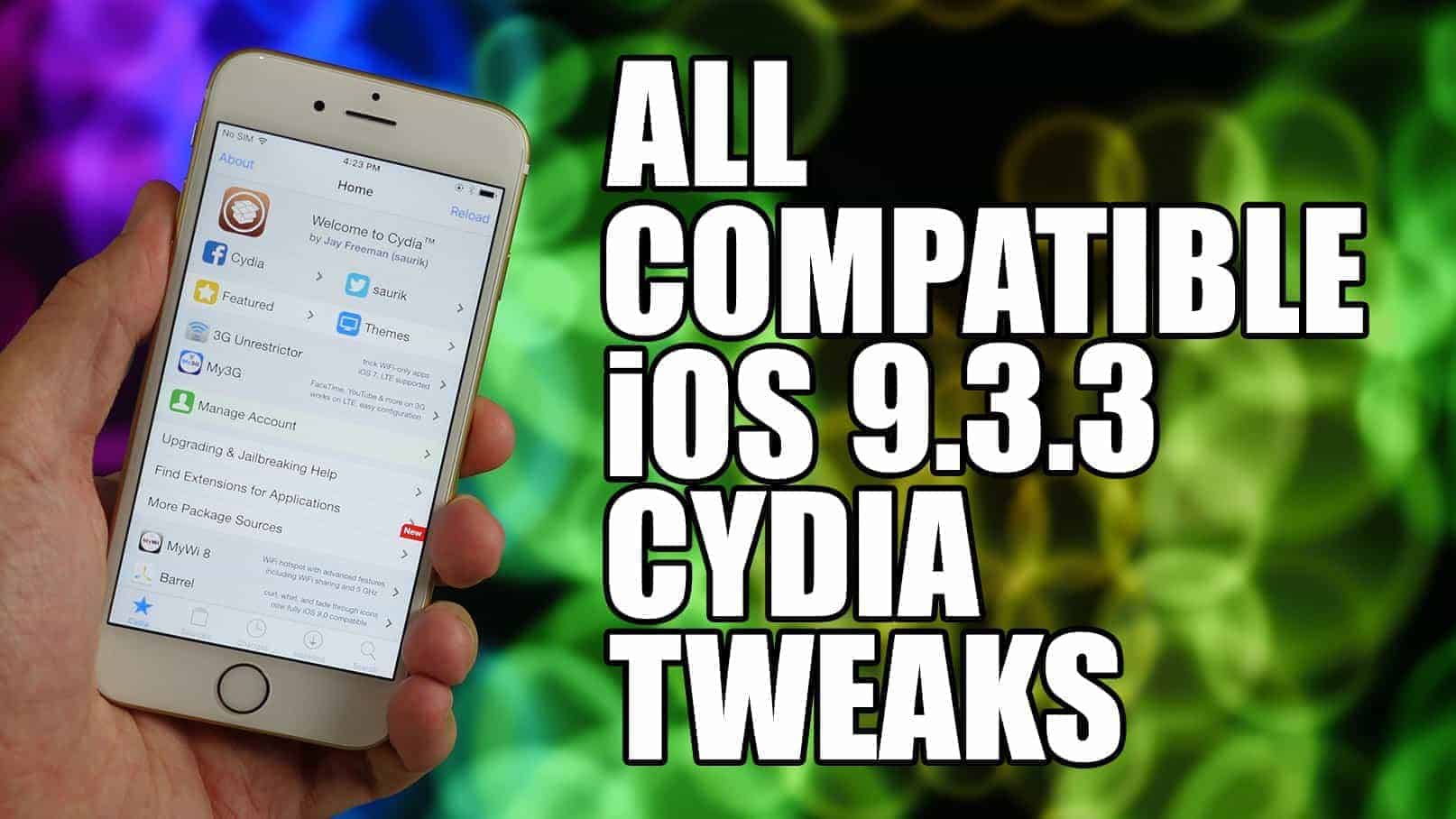 List of Cydia Tweaks compatible with iOS 9.2 to iOS 9.3.3:
Alkaline
AppHide
Apple File Conduit "2"
Auris
Ayeris
Ad Blocker 2
App Sync Unified
Barrel
Bars
BetterFiveColumnHomeScreen
BetterFiveIconDock
BioProtect
Bloard
BlurryBadges
Breadcrumbsaway
Bytafont 3
ColorBadges
ColorBanners
Couria
Cream
Cylinder
CCSetting for iOS 8/9
DeleteCut
DeleteForever
DetailedBatteryUsage
DismissProgress
DoubleCut
Eclipse 3
Facebook++
Filza
Fingal
FlappyGo
Flash
Flyer
Flame
Front Flash
Flex 2
Forcy
GIFPaper (iOS 7)
GifViewer
Harbor
iCaughtU Pro
iCleaner
iCleaner Pro
IDBox
iFile
Indigo
Instagram++
InstaBetter
Keyboard Accio
Keyboardplus8
Kodi
Lithium
LocationFaker9
LockGlyph
Masterball
Messenger ++
Mobius
MTerminal
MultiIconMover+
netKillUI
NoAnnoyance
NoBlur
NoDictation
NoMotion
noNoSimAlert 8
Notate
NudeKeys
OnlineNotify
Palert
Phantom for Snapchat
Poke ++ for Pokemon Go!
PokeMap
PokemonGoAnywhere
Power Tap
PreferenceLoader
PriorityHub
Protect My Privacy
ProximityLock
PullToRespring
Remote Messages
RevealNC 9
Rocket for Instagram
RePower
Safari Downloader+
Snap+
Speed Intensifier
Splitify
SpotlightBeGone
StatusVol X
SwipeExpander
SwipeForMore
SwipeSelection
SwipeSelectionPro
SwipeShiftCaret
Stealth Cam
TransparentDock
Twitter++
TwitterUICustomizer
UntetheredHeySiri
Upscale
VideoPlayerRotatable
VirtualHome 8 n 9
WAcallConfirm
WatchNotifications
Watusi
Whatsapp++
Xgress
Youtube++
We will update the list of Cydia Tweaks compatible with iOS 9.2 to iOS 9.3.3 once the developers update their tweaks. So stay tuned with The Cydia and never miss any update.
[Image Credits: YouTube]