If you're into numbers or want to check the signal strength of Verizon, AT&T, Sprint, T-Mobile, and other carriers on iPhone, then you might like this iPhone hack (we can also call it as a trick). With this iPhone trick, we can replace the iPhone signal strength indicator from dots or bars to numbers. The numeric iPhone signal strength meter is more precise and accurate than the tower bars and dotted signal indicator.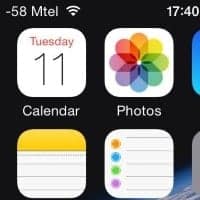 The best part of this trick is it doesn't require you to Jailbreak iPhone or download any iPhone signal strength app. There are no complicated instructions, and even a newbie can change bars or dots to the iPhone signal number. All you need to do is jump into the iPhone dial pad and enter the secret code to enter into the iPhone testing mode and change the carrier signal indicator.
Follow the step by step instructions listed below and change the iPhone network signal indicator from dots or bars to numeric.
How to Change iPhone Cellular Signal Strength to Numbers
Open the iOS dial pad on your iPhone.
Now the iPhone Field Test Mode menu should popup. You may have noticed that the iPhone signal indicator has changed to the numeric value already. If it hasn't, then follow the below steps; otherwise, jump directly to step #7.
If the signal indicator is not numeric, then tap on the iPhone tower bars or dotted network signal indicator. Yes, you read it right! You have to tap on the iPhone network signal indicator at the top left corner.
After tapping, you will see that the iPhone signal strength indicator is now changed to numeric.
If we exit from the iPhone Engineering Mode or Field Test Mode, the signal indicator will change back to dotted or iPhone tower bars. So we have to trick the iPhone to keep the changes and show the iPhone signal strength number. To do so, follow the below steps.
If you have exited the iPhone Field Test Mode, then enter the mode again and make sure the signal indicator is numeric.
Now, hold the Power button until you see the power off slider.
Now, hold the Home button for about 10 seconds or more until you are taken to the home screen.
Congrats! Now you have successfully changed the iPhone network signal indicator from dotted to numeric.
Note: For your information, the signal number value closer to zero, the stronger your signal. The values between -40 and -77 are considered as a good signal, and values between -102  to -120 are regarded as a poor signal.
Do consider sharing this trick with your friends and help them in changing iPhone signal strength to numbers from dotted or bars.
Did this trick work for you? Do let us know in the comment section below.