Have you ever heard unique tones from your colleague's iPhone? iPhones are well known for their uniqueness, and so don't be left out. Show off your creativity with these free iPhone ringtone apps.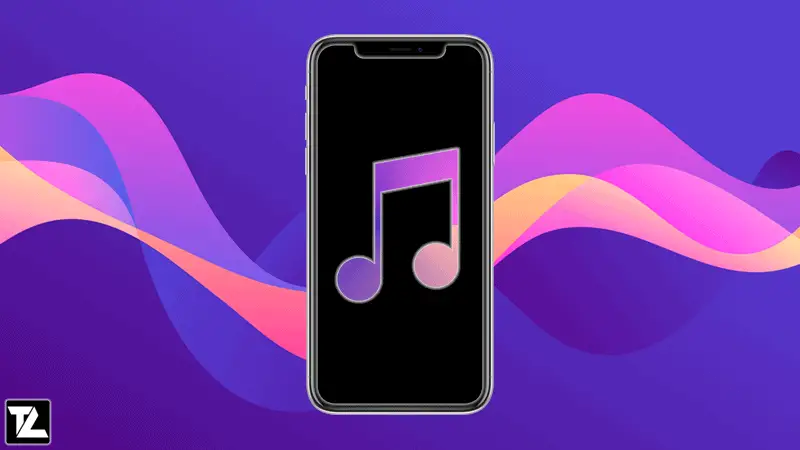 Best Free iPhone Ringtones Apps
The list of ringtone apps for iPhone shared below boasts excellent features that enable you to create and save customized tunes for your iPhone. Besides, you will enjoy tons of ringtones across multiple categories while being updated with the trending ringtones.
This article will provide you with a list of the 9 best free iPhone ringtones apps. Let's dive.
Ringtones for iPhone: RingTune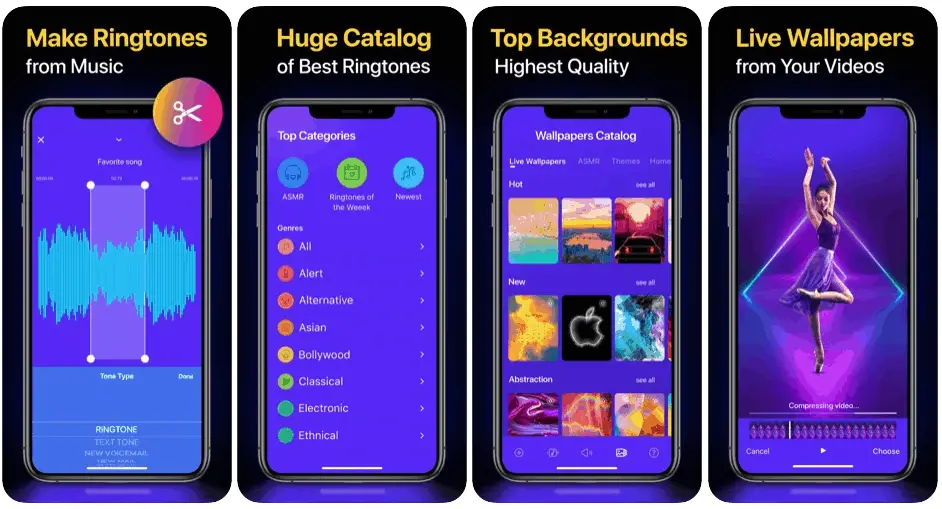 Do you want to customize your iPhone mobile with cool sounds and wallpaper? Then this is your iPhone ringtones app with extreme flexibility and ease of use. This app comes with several exclusive features for your iPhone that allow you to record iPhone ringtones, alert tones, and text tones for free.
Ringtones for iPhone app provides you with multiple categories of popular ringtones where you can choose the best. Besides, the app also allows you to create your ringtone from your song's library for uniqueness. The app will enable you to edit and create your ringtone from all the ringtones saved in the "My Tones" library for further customization.
For more versatility, the 2-in-1 app allows you to work on your wallpaper for a customized look. The app also allows you to add beautiful wallpapers to your lock screen.
Price: Free
Ringtones for iPhone! (music)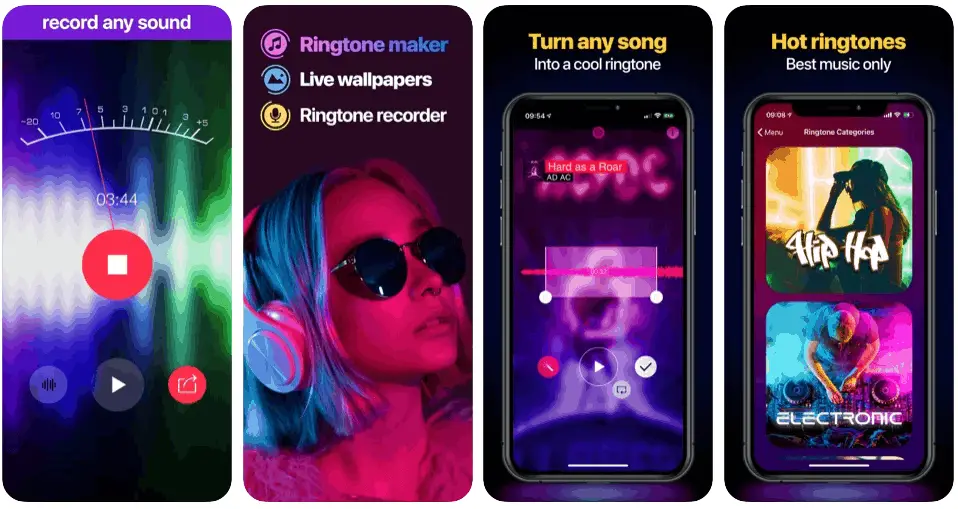 Get the best ringtone app for iPhone from this feature-packed app, and enjoy creating personalized and professional ringtones for iPhone. This app easily allows you to create personalized tones by recording sounds and voices of your choice. For extra versatility and precise editing, the app will enable you to change your ringtone's start and end markers.
To enhance professionalism and creativity, the free ringtone app for iPhone provides you with the option to set the ringtone volume and pitch, as well as the fade in and out option. Enjoy your sound's actual waveforms, together with your friends on social media.
Price: Free
Ringtones for iPhone: TUUNES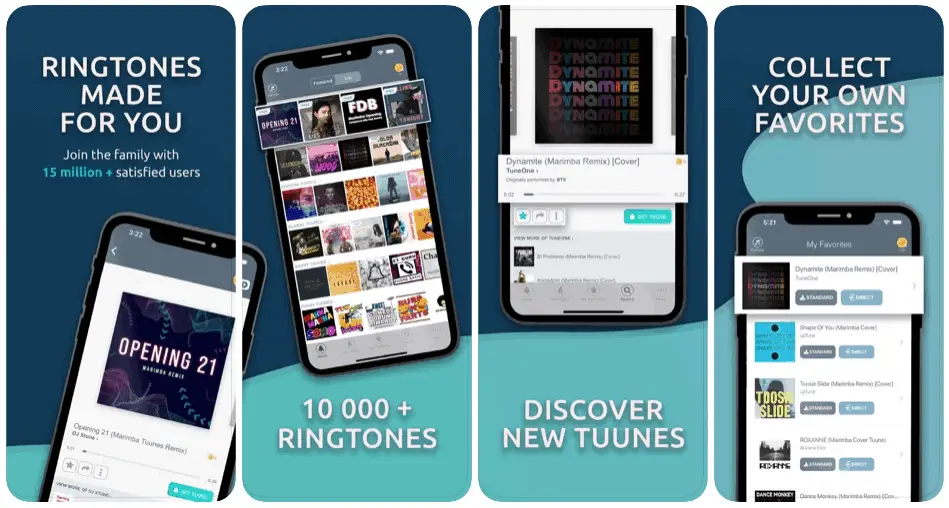 The Tuunes iPhone ringtone app comes with multiple options to choose from, and to your surprise, the app is periodically updated, thereby adding more new tones. The app features an impressive tunes list that boasts multiple alert tones and ringtones for a customized taste.
Go wild with this ringtone app; it features pre-installed tunes to choose from and also allows you to add your favorite ringtones. The app will enable you to do all these with your iPhone only, without needing a laptop or desktop.
Price: Free
Ringtones HD – Ringtone Maker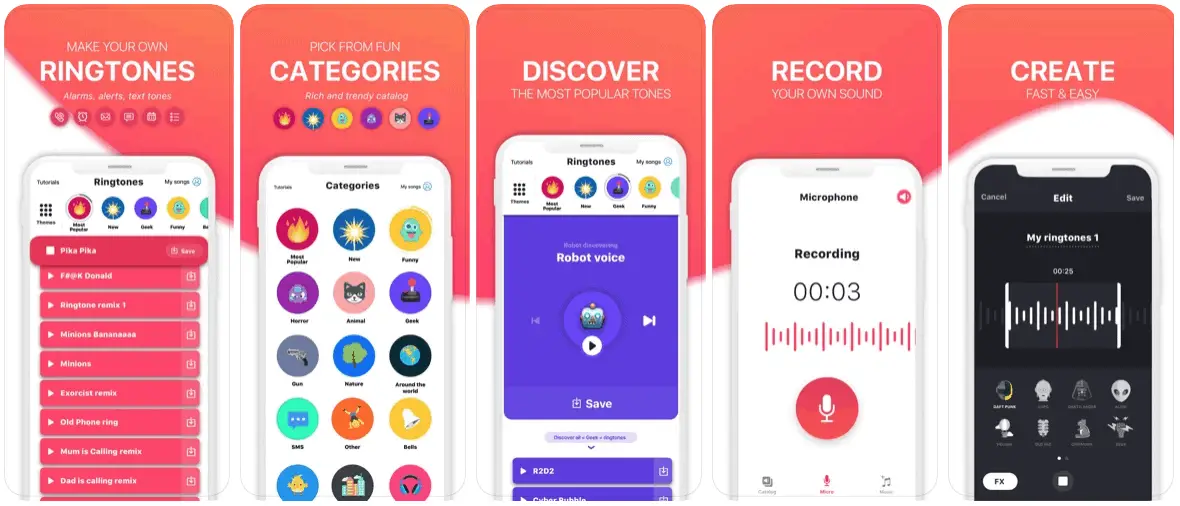 Get the best free ringtones for iPhone with a truly personal touch from this app, right from the comfort of your couch. The app features an extensive catalog that blends perfectly with every taste and regularly updates the tunes. Also, get a chance to explore various tune themes, including comedy, animals, nature sounds, spooky, and more.
On the other hand, this app keeps you updated with the latest trending tones from the world. Besides, it allows you to create your ringtone using your iTunes tracks.
Price: Free
Ringtones for iPhone: Infinity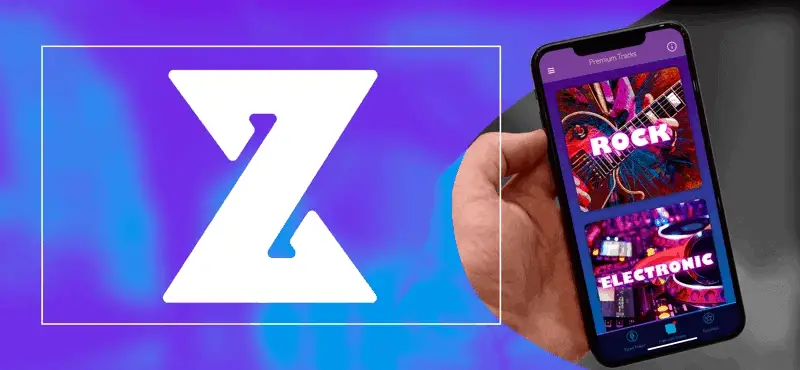 This is a premium ringtone app featuring multiple categories of free ringtones for iPhone, including electronic, pop, R&B, rock, indie, country, and many more. The good thing with this app is that all the songs are fully licensed for you to use by their artists.
Additionally, the app provides you with new featured songs every day, thereby keeping you up-to-date with the latest trends. Get a chance to organize and save your favorite tones in your library for easy and quick access all the time.
Price: Free
Best Ringtones 2021: Songs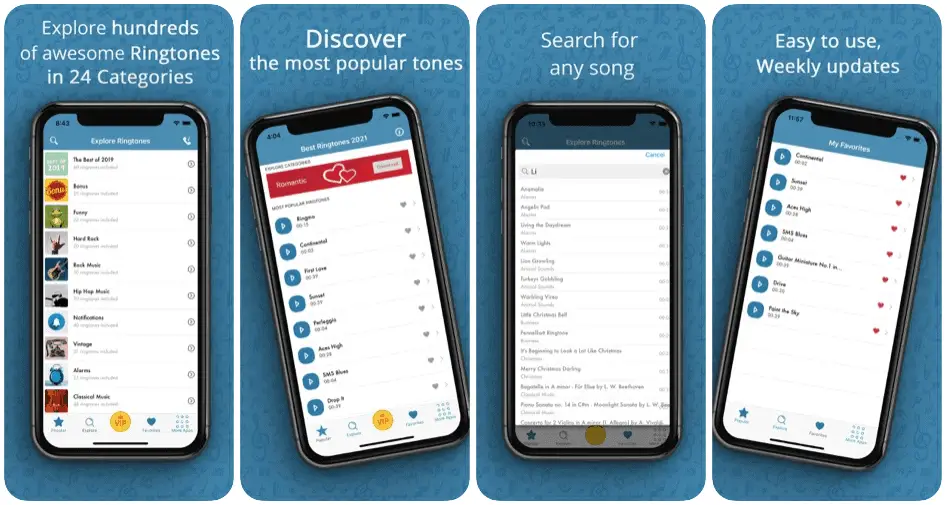 The Best Ringtones 2021 app is the best way to bring in your new life with the best ringtones for your iPhone. The app gives you a chance to explore multiple awesome ringtones across 18 categories. It features 1000s of the latest melodies that will blast you away. The categories include electronic, nature, Christmas-themed, classical, most popular, among others.
This is an easy-to-use app and well-developed, with weekly updates to keep you updated with the latest trends. The Best Ringtones 2021 app provides you with the option to set your favorite call, SMS, and alarm ringtones. However, the app has many video ads, though not very intrusive.
Price: Free
Ringtones Maker – the ring app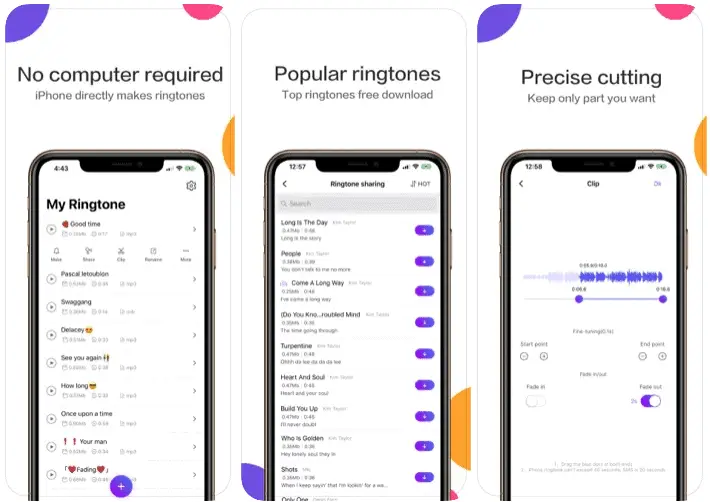 The Ringtones Maker is a versatile iPhone ringtone-making app that is entirely free and enjoyable to use. This app allows you to make your iPhone ringtones without connecting to a computer directly. The app features precise cutting so that you only keep the part you want.
This app only takes 10 MB of your device storage space and makes it quick to download. In addition, making your customized ringtone using the latest creation techniques takes only a few seconds. The app also allows you to automatically extract an audio track from a video and create a ringtone for versatility.
Price: Free
Ringtones: for iPhone
Thinking of customer satisfaction and reviews, this app has won over 500,000 excellent reviews from satisfied users; therefore, rest assured of complete satisfaction. Edit any music, ringtone, or mp3 track and create your custom ringtone. Just cut your favorite part and have your tune within no time.
The app also allows you to convert any video sound to your custom tune. Besides, record any sound and create your ringtone and finally save it to your library. Get the most excellent way to create your sounds for free.
Price: Free
Best Ringtones: Top Music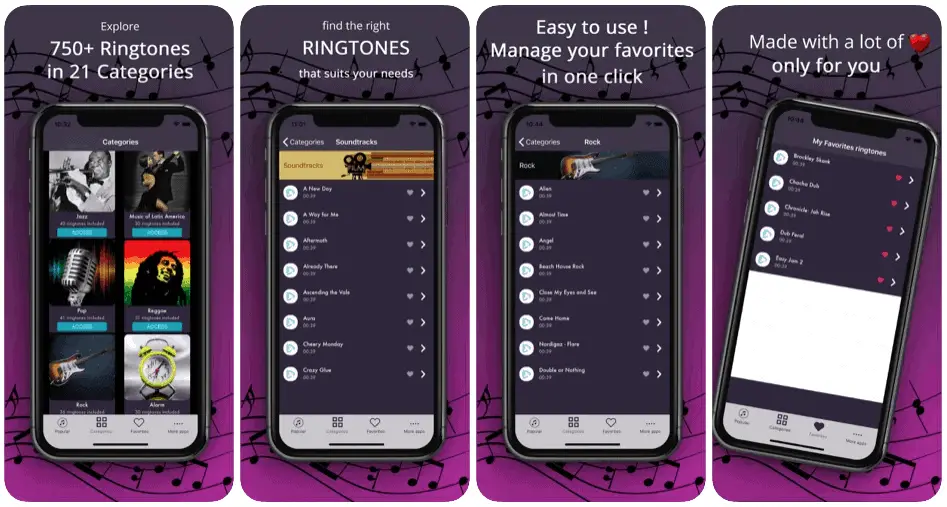 This is the last best iPhone ringtone app in this article, with excellent features to blow you up. This app provides you with a platform to explore tons of great tones and choose the best from more than 12 categories. They include classical tunes, famous music, electronic, pop, country, jazz, Latino, etc.
Get your unique sounds from more than 650 ringtones using your phone only. This app allows you to set your favorite iPhone tone for calls, alerts, and alarms at any time. Besides, it also boasts HD wallpapers for an excellent lock and home screen.
Price: Free
Conclusion
In conclusion, the above article has provided you with the nine best free iPhone ringtones apps for creating customized and awesome ringtones for iPhone. Enjoy creativity and uniqueness with one of the above ringtone apps for iPhone. Just download and find or create your best ringtones that meet your preference and get started.