Can you activate an iPhone without a SIM Card? The answer to that is YES. There are different methods for you to activate an iPhone without a SIM card.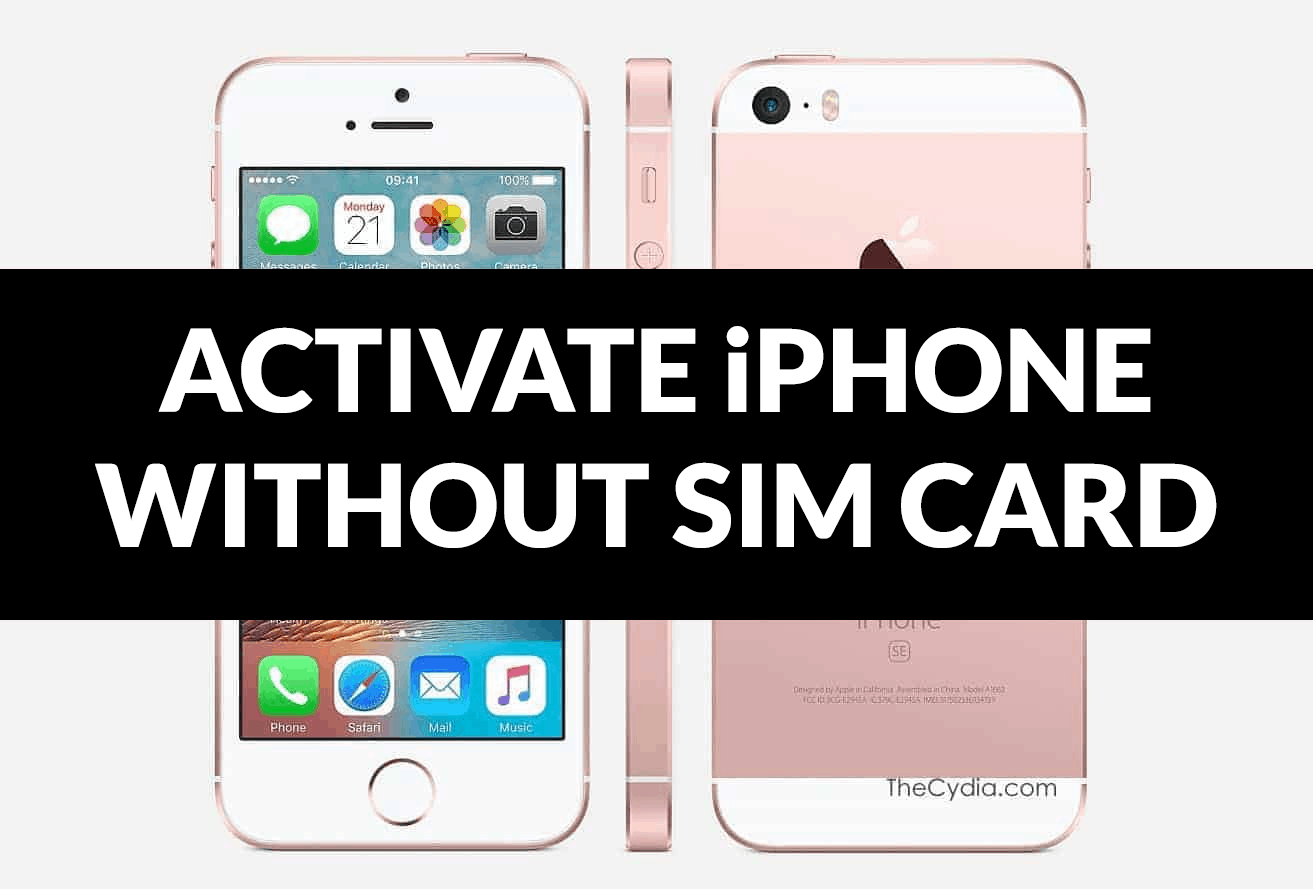 If you'd like your child to use your spare iPhone without a SIM card or haven't got a spare SIM card, you'll be glad to know that you can use iPhone without a SIM card.
In some cases, you might be looking to activate the iPhone without connecting to a Wi-Fi network. We have also covered a method that will allow you to do this too.
The ways to setup iPhone without SIM Card and no Wi-Fi are easy to follow, and it doesn't require you to Jailbreak iPhone. However, the process might be more challenging if your iPhone is locked to a specific carrier. For the purpose of this tutorial, we will assume that you've got an unlocked iPhone or have access to the carrier-specific SIM that you can use temporarily to activate iPhone.
As an iPhone is meant to be a phone with the ability to call people, Apple has made it mandatory to install a SIM card on the iPhone before using it. If you got a new iPhone or factory reset an iPhone, you have to activate your new iPhone using the Setup wizard; without activation, you're not allowed to use it.
This guide covers all iPhone generations from the iPhone 3GS to the iPhone 11, 11 Pro, and 11 Pro Max. Below is the list of all iPhone versions supported by this guide.
Supported iPhone models
iPhone SE (2nd) 2020
iPhone 11 Pro Max
iPhone 11 Pro
iPhone 11
iPhone XS Max
iPhone XS
iPhone XR
iPhone X
iPhone 8
iPhone 8 Plus
iPhone 7
iPhone 7 Plus
iPhone 6S
iPhone 6S Plus
iPhone 6 Plus
iPhone 6
iPhone SE (1st) 2018
iPhone 5S
iPhone 5C
iPhone 5
iPhone 4
iPhone 4S
iPhone 3G
iPhone 3GS
How to activate iPhone without SIM card activation
Below are the different ways with step by step instructions that allow you to activate any version of the iPhone without SIM card activation.
Activate iPhone using someone else's SIM Card
The first most effective method to bypass iPhone activation is using someone else's SIM card. This method is aimed at those who don't have a SIM card of their own but can borrow a SIM card from someone else just for the iPhone activation purpose.
What you'll need:
A SIM removal tool.
A family member or friend who is prepared to let you borrow a SIM.
If your iPhone is locked to a particular carrier, you need to make sure that the SIM you borrow is from the same network.
Access to a Wi-Fi Network.
Here's how to activate your iPhone
Remove the SIM card from the lender's iPhone with the SIM removal tool.
Make sure your iPhone is powered off.
Install the borrowed SIM card on your iPhone.
Power on your iPhone and complete the iPhone set up process, including logging on to your Wi-Fi network.
Wait while the iPhone activates.
Remove the SIM card from your iPhone and hand it back to the lender.
You can now use your iPhone without a SIM card. You won't be able to make phone calls unless you use Skype, Facebook Messenger, WhatsApp, or FaceTime.
Bypass iPhone activation using iTunes
The principal reason to activate the iPhone using iTunes is if you have no SIM card and no Wi-Fi access, this method will still work.
iTunes is a handy piece of software when it comes to the iPhone and other iOS devices. Follow the steps listed below to know how to use iTunes to accomplish our task.
What you'll need:
An unlocked iPhone.
A computer with iTunes installed.
Here's how to activate your iPhone using iTunes – no Wi-Fi, no SIM Card
Download iTunes from Apple's official website. If you already have iTunes installed, make sure it is the latest version.
Run iTunes on Mac or PC.
Connect your iPhone to Mac or PC using iPhone compatible USB cable.
Once iTunes detects the device, the software shows step by step instructions to get the iPhone set up and activated without any SIM Card or Wi-Fi access.
Once activated, you can use your iPhone on a Wi-Fi network, just as if it was an iPad or an iPod touch.
Activate your iPhone with R-SIM/X-SIM
This method involves using R-SIM or X-SIM to activate your iPhone instead of an actual SIM card. Follow the steps on how to do it.
What you'll need:
A SIM removal tool.
R-SIM or X-SIM
And here's how to activate iPhone using X-SIM or R-SIM
Insert the R-SIM or X-SIM into your iPhone. A list of network providers should show up.
Select your preferred cellular network provider and continue; if your carrier isn't in the list, select input IMSI code from the given options.
Enter the 7-digit IMSI carrier code when asked. You can search for all the IMSI codes for carriers online.
After selecting your iPhone model, choose your preferred iPhone unlocking method.
Wait for the device to process the request and tap on Accept.
iPhone should reboot automatically to confirm the action.
After reboot, the iPhone should start searching for service, and the activation complete message should pop up on the screen.
Activate iPhone using the emergency call feature
WARNING: We don't recommend calling emergency service unnecessarily, we would also warn that there is low success rate in activating iPhone using this method. We belive that the software flaw this method exploited has been patched.
Without inserting the SIM Card on iPhone, we can make only Emergency Calls on iPhone. This can be used for our benefit to activate iPhone.
Turn on the iPhone by holding the Power button.
At the activation screen or on the screen where it says no SIM Card installed, press the Home button.
An option to make Emergency Calls will be offered. Dial some number like 112 and make a call and immediately press the Power button.
Some popups display on the screen; Click Cancel and End the call.
Now you should see the iPhone's Home Screen. This method might not work for all iPhones, and we warn you that everything should be done quickly before someone picks up the call. As 112 is the Emergency Number, it might lead the Police to break into your house. You have been warned!
Jailbreak to Activate iPhone without SIM card
If all the above methods to activate an iPhone without a SIM card fails, you can always attempt to Jailbreak your iPhone. iPhone Jailbreak gets rid of all restrictions imposed by Apple Inc., and you can tamper with iPhone's internal settings and exploit the software. However, there are several risks involved in Jailbreaking an iPhone, and it does void your warranty. So, it is advised to Jailbreak an iPhone at your own risk.
However, Jailbreak will allow you to activate and unlock your iPhone without a SIM Card.
Which of the above methods worked for you? Do let us know in the comment section.
Was this guide helpful?
Don't forget to share with your friends on Facebook, Twitter, and other social media platforms.